Poetry Challenge
We are very proud of our Poetry Challenge.

What is the Poetry Challenge?
Pupils from EYFS to Y6, are challenged to learn, perform and recite from memory, a new poem each half term.
Why?
There are many benefits to learning poetry by heart and being able to recite it from memory, such as
enjoyment

a sense of achievement

focus

independence

language

memory

oracy

participation

togetherness

understanding
For more information, click here: Book Trust: Benefits to children of learning poetry by heart
Achieving the Poetry Challenge
Each year group have 6 poems to learn – 1 per half term. These can be found in their pupil planner.
Teachers will take time to practice the class poem with their class on a regular basis. They may get competitive against another class and encourage their children to help each other learn and practice together.
Once a child is ready to recite a poem, they should perform the poem for a member of SLT. The child should take their diary with them for that member of SLT to sign next to the poem to say they have completed it. Pupils should find a member of SLT, either at lunchtime or after lunch towards the end of the week (Wed, Thu or Fri).
Pupils who are able to confidently recite the poem off by heart at any point during the half term, will achieve 5 Dojos and receive a 'Poetry Challenge Certificate', presented in the next praise or phase assembly.
When they have learned all six poems by heart, they received a poetry badge. Each year they will receive a different coloured badge.
The poems to be learnt in each year group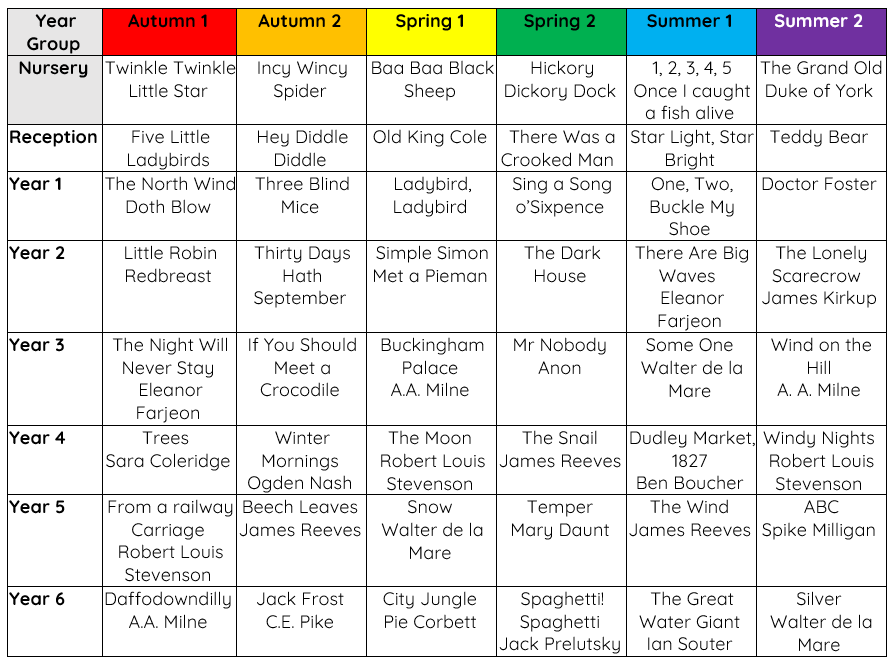 Highbridge Road, Netherton, Dudley DY2 0HU
01384 816895
info@netherton.dudley.sch.uk