Our Vision and Values
Acceptance Respect Forgiveness
Fairness Perseverance Positivity
With God all things are possible (Matthew 19:26)
Our vision and Christian values are at the core of everything we do. They underpin our teaching and learning, and foster an environment which provides our children with a comprehensive 'life tool-kit' for their journey towards being confident, happy and successful citizens who make the most of all life's opportunities.
Vision Statement 2023

Our vision and values are at the core of everything we do. We will endeavour to provide our children with the necessary tools so they 'can do it'. Our aim is to:
'Make A Difference to Everyone'- We aim to create an environment where there is no difference in the academic achievement and opportunities for spiritual growth between those who might feel undervalued, disrespected, or marginalised in society. We encourage our children to seek challenges and aspire to be the best that they can be, knowing they are loved and accepted for who they are, a unique child of God who is loved unconditionally.
In our drive and determination for ALL to be successful, it is our hope and through our words of wisdom that everybody can fulfil dreams to have the best chance of a happy future.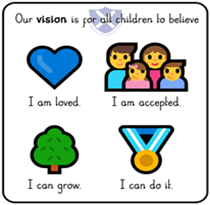 Highbridge Road, Netherton, Dudley DY2 0HU
01384 816895
info@netherton.dudley.sch.uk